Favorite part of a typical day:
I love that no day is typical for me. I am thankful for the opportunity to work at home some days and visit customers other days. My favorite part of any day is when a child makes me laugh. Kids inspire me and I enjoy the opportunities I have to mentor them through my job. A great day also means I've helped make life easier for someone.
Skill(s) I'd most like to improve:
Tennis, doing math in my head, Spanish, playing the piano, sewing
Interests/Hobbies:
Softball. I simply love the game and would play every day if I could. I currently play twice weekly on co-ed teams and I'm thankful to be able to play year-round in the Valley of the Sun. My job is also a hobby because of all the creative latitude I have. I really love the outdoors too —especially camping in the pines. I also enjoy reading and writing non-fiction material about social sciences.
Favorite Music:
Anything that sounds good, makes me move, or touches my heart.
Pet Peeve(s):
Wasted food, words that start with the letter P.
Guilty Pleasures:
American Idol, Milli Vanilli, and birthday cake flavored ice cream with rainbow sprinkles.
Advice to young people:
Seek truth beyond definition and tradition.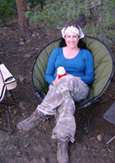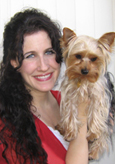 Dream Vacation:
Tops on my list: Ireland, Australia, a road trip up the California coast, an RV trip around the US, and any secluded island with crystal-blue ocean water.
Favorite Reads:
The Great Gatsby, The Secret Garden, The Grapes of Wrath, The Invisible Man, The Road Less Traveled, Seven Habits of Highly Effective People, anything by Malcolm Gladwell, The Bible, books about my faith, any written work about social sciences and business ethics, Inc., Communication Arts, and books/articles for professional development.
Gives me the best advice for my business:
My family and many Bible Proverbs
Things I can't live without:
Choices, memories, a dishwasher, AdvoCare Spark energy drink, a comfortable bed, a dog for a pet
Favorite Movie(s):
My favorite all-time movie: The Natural. Also on the top of the list: Shawshank Redemption, Forrest Gump, Christmas Vacation, and Napoleon Dynamite.
Pets:
My big ferocious dog Champ (a five lb. Yorkie). ...and no, I don't dress him up in little outfits.
Favorite quote:
If you don't stand for something, you'll fall for anything.